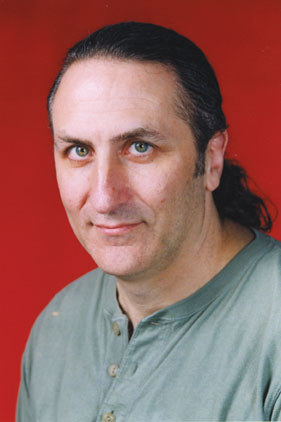 Performing In New Orleans

French Quarter Festival
Satchmo Summerfest Stage,
Friday, April 8, 4:35 p.m.

Mo' Fest B-3 Summit
Woldenberg Park
Tuesday, April 26, 7:00 p.m.
Raised in Westbury, Long Island, New York, keyboardist Joe Krown commenced playing piano as a child. In college at the State University of New York at Buffalo, Krown discovered the Hammond B-3 organ and after his fifth semester, departed undergraduate life for a distinguished career as in-demand sideman. In 1992, he moved to New Orleans to become a full-time member of Clarence "Gatemouth" Brown's band, an ensemble with which Krown has toured all 50 states and most of the globe's nations. When Krown is not on the road, he regularly performs solo gigs and leads his own Organ Combo, which has just released Livin' Large, an album featuring eight original instrumental Krown compositions (including "Under the Influence" and "Dame Dreaming"), as well as selections by Combo members Brent Rose and Jim Markway, and a simmering cover of Joe Sample's "My Mama Told Me." It's the perfect soundtrack for crawfish boils, pole dancers or your next illicit cheap motel rendezvous.
Were you familiar with Gatemouth before you joined his band?

I knew about him, I knew who he was. That style of music that Gate is into is stuff that I was trying to study at the time. I had been out on the road with another guy, Luther "Guitar Jr." Johnson, in the late '80s. From that band I got hired into Gate's.
Do you remember the day you met him?

Oh yeah. We were in a hotel up in Canada and I was looking for the road manager and out popped Gate. I was a little intimidated by him. He was pretty cool with me up front. There were certain things that I was real good at doing, certain things that I wasn't as versed at. The way Gate would describe stuff was "Play more like this" or "Play less like that." He's not a real big fan of New Orleans music so anytime I cut into any kind of New Orleans stuff, he was like, "Okay, don't do that. Don't play any Professor Longhair style piano-don't do any of that at all on any of my stuff." He hates that, he doesn't want that, that's not what he's about.

Gate does a wide, wide range of music from way, way uptempo swing stuff to regional Gulf Coast music, which is Cajun, zydeco, Texas country, and of course, the blues. I played all the blues and jazz stuff fine for him. When we went into doing some of the Cajun stuff, I really wasn't as versed, coming out of the Northeast. He would direct me: listen to these guys. Listen to Floyd Cramer-don't play blues on a country song, play country piano.

Gate was real specific about organ playing. There were certain organ players that he liked and others that he just couldn't stand their style. He loved the Jimmy Smith style and he hated what we call "block chord style," which is something like what Wild Bill Davis played or Bill Doggett.

You see, the organ really came into effect in the late '40s and early '50s when they were trying to scale down the big bands. The organ was playing all the big band arrangements and it sounded very chordal. When Jimmy Smith came out, he was one of the most prominent players of the B-3 playing jazz and that's what Gate liked to hear. He wanted single notes, like a tenor sax solo would be. After gigs, Gate would say, "Don't give me that Shirley Scott stuff-give me that Jimmy Smith stuff." I was like, "Whatever you want." The man's your boss-that's what you've got to do when you have a boss.

A lot of the ways he phrases stuff when he plays-especially the swing stuff-is very horn-oriented. He wanted to hear you blow. That was his whole thing. When he was coming up, there was a whole competition between players where they'd have cutting sessions. They'd have one band and line up the guitar players and see who could outplay who. I'm pretty sure that in his time Gate was probably the quickest draw, the fastest hand-whatever you want to call it. He didn't have the hits that somebody like T-Bone Walker or Guitar Slim had but he certainly was able to outplay all those guys. That's what his reputation was.

His signature tune ["Okey Dokey Stomp"] is an instrumental. That's what he's known more as-an instrumentalist rather than a singer. B.B. King was originally a crooner.

Gate has a reputation for being a lot of different ways but after working with the man for 15 years, you don't just see that. A lot of people think he's a hard guy to work for but everybody's hard. From where I was coming from, I was working with an older blues man, he was an alumnus of the Muddy Waters band, Luther Johnson. Gate was easier than Luther. Luther was not very educated and his range of emotions was either loving or hating-nothing in-between. Gate has a very big family thing-the band is a family, we're out here as a family. You've just got to look at Gate as your dad. He's going to spew and you've just got to take it.

Let's touch on Gatemouth and what he thinks of other musicians. He likes Louis Jordan, he likes Count Basie, he likes a lot of the jazz players-he loves Oscar Peterson. As far as rock 'n' roll and blues players, he pretty much doesn't like any of them.

We toured with Eric Clapton for about 60 dates in 1995. Gate has this thing where he thinks all blues guys are copying somebody else and that they should be original. Then when he hears somebody doing something original, he doesn't get it-it's beyond him. So really what he likes is himself and he loves Count Basie. He's very competitive about guitar players.

I heard Clapton play for almost three hours every night for 60 nights and he tore it up every night. Gate, on the other hand, took it as "Here's another younger generation guitar player stealing from the older generation." He got tired of Clapton's playing instantly and dreaded it. But Gatemouth doesn't like listening to anybody for any length of time.
When did you start recording your solo projects?

In the '80s, I had my own band with the first Mrs. Krown-I'm on number two now. She was a singer and we had records and worked around New York and New England. When I got down here, I wanted to continue working on recording stuff on my own. Around 1996, I hooked up with STR Records-Sandy Hinderlie was doing solo piano CDs. I did my first record with Sandy, Just The Piano, Just The Blues. After doing that, we started making Organ Combo records. We did three: Down & Dirty, Buckle Up and Funk Yard. Down & Dirty was the old school organ stuff that I was playing with Gatemouth. Buckle Up was a little bit of an all-star session with George Porter, Jr., on bass and drummer Herman Ernest and guitarist John Fohl, both from Dr. John's band. That record was like the bridge-I did some of the old school stuff, sounding like Bill Doggett and Jimmy Smith, and I wrote some New Orleans-y material, more Meters-esque sounding stuff. That was the music that got the most response-all the deejays were playing that material. I love the Meters, I love everything Art [Neville] did.
Livin' Large likewise sounds very Meters-esque.

The influence is there. You can't play New Orleans funk without having Meters in you. If you're going to play anything like New Orleans piano, you're not going to get away with it without having Professor Longhair. You can't avoid that.

When we put out Funk Yard, we were really just trying to go down that alley. Funk Yard had really good success-I made enough to pay it off and made a little bit to do the next one. In 2003, I did a solo piano CD, New Orleans Piano Rolls, and in 2004, I did the Sansone, Krown and Fohl CD. One record a year is what I try to do. I'm very happy with Livin' Large.
Talk about releasing instrumental records-the lack of vocals has, at times, bewitched both the Meters and Galactic. Do people suggest that you sing?

I don't sing but people suggest it all the time. It's hard selling instrumental records. For me to sell 3,000 copies of an instrumental record, without any distribution, just me selling it off the stage and at Louisiana Music Factory and Tower, is solid. At the French Quarter Festival last year, I sold almost a hundred CDs right off the side of the stage, after I played. Unless you're Britney Spears, record companies aren't interested in you.

I'm not looking to move from New Orleans. My wife is from here, my daughter was born and raised here. Music is my career-this is a good place to set up base in. Also, people look at you differently if you're a musician from New Orleans. They definitely respond to it. Festivals focus on New Orleans music. It's been nice.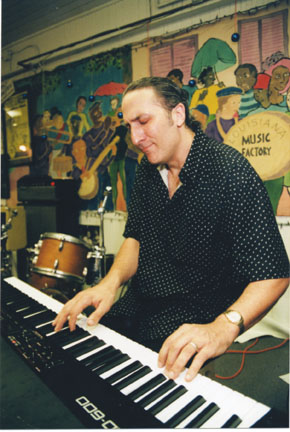 Didn't you used to play with Chuck Berry?

I got involved with this band that was like Chuck's band in the Northeast. We traveled all over New York and New England whenever Chuck played up there. It was all big concert halls.

We were up in Buffalo and Chuck had a rider on his contract that said he had to have two Fender Dual Showman amps-that was his only thing. He'd show up with a guitar-a Gibson 355--and a special 30-foot stereo cord. That's all he'd show up with. Chuck would play his 60 minutes and at 60 minutes and one second-no matter where he was in the song-he would end it and walk off.

We're doing the sound check and Chuck comes in, looks at the stage and there's two Fender amps and they're not Dual Showman tops and bottoms. He walks up to the promoter: "Those are not the right amps. Get the right amps. I'll be back." The promoter makes some calls. We're in the dressing room at this point and he's like: "This is the best I can do."

So the show starts and the comedian comes on. No sign of Chuck. About ten minutes before the end of the comedian's set, Chuck shows up. He puts his guitar down and the promoter comes in. Chuck goes, "Did you get the right amps?" The promoter says, "That's all they have in Buffalo. There are no Dual Showman amps available-I called everywhere."

Chuck says, "We have two choices here. In my contract it says you provide the amps or there's a $2,000 penalty fee. Do you have the $2,000 penalty fee?" The promoter says, "I don't have that kind of money." Chuck goes, "Well, then I guess I walk." He puts his guitar back in the case, packs up his jumpsuit and starts walking out of the place. The promoter is freaking out: "Wait! Wait! I'll see what I can do."

Chuck is telling us, "See, you've got to do this sometimes, fellows." We're all wondering if the show is going to happen. The promoter comes back with a check for $2,000 and Chuck says, "I don't know you. The contract says cash!" He starts packing his stuff again. The promoter goes to the box office, cashes the check and comes back with $2,000 in cash and leaves swearing and cussing. Chuck turns to us: "There's no way I was going to cancel this gig. I've got $25,000 riding on this. But sometimes you've just got to do it to these guys. They've done it to me all my life and now I can do it back. That's the bottom line."
Reprinted from offBEAT Magazine, April 2005